50$ OFF FOR NEW CLIENTS (terms & conditions apply)!
Eyebrow Microblading In Austin
Your beautiful brows are just one appointment away with 2Xcertified microblading artist!
BOOK NOW!
Prices For Microblading Services
Are you worried about how much the procedure costs? You will love our prices affordable for everyone! Don't miss our offer for new clients and get the best deal possible for microblading, PMU and correction.
Consultation
If you feel anxious and want to know more about the procedure, can't decide which eyebrows shape is good particularly for your face - coming to us you will have 15 minutes free consultation when with the initial session.
Lip Blush
Lip blush is a soft tattoo technique that can refresh or enhance your natural lip color and make your lips line a bit more defined. If you don't like to reapply your lipstick several times a day or worry not to smear it the lip blush is right for you.
Price: $500.00 $550.00
3 hours
Microblading Initial Service
This session includes 15 min free consultation, numbing and the initial session. Please,note that you can not get the service if you are under 18 y.o., pregnant, breastfeeding or have some medical issues.
Price: $415.00 $465.00
3 hours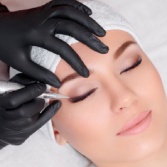 Permanent Eyeliner
This unique cosmetic treatment is always perfect whether you cry or laugh, stay on a beach or in a sauna. With this natural look you can always feel and be perfect with no effort. The best part about it is that you can look gorgeous for a long time.
Price: $415.00 $465.00
2 hours 30 minutes
Regular Touch-Up Session
Done for current clients only. The procedure can be done 4-8 weeks after the initial one. At this session, we can add shading or more color to some fading strokes. We highly recommend it for long-lasting results.
Price: $100.00 $150.00
2 hours (4-8 weeks after initial procedure)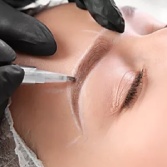 Powder Brows/Ombre Style
It includes consultation, shaping, numbing and the initial session of powder or ombre style brows.This technique allows to create smooth, makeup looking results. If you have done permanent makeup before, we recommend the consultation before the procedure.
Price: $465.00 $515.00
2 hours 30 minutes
Why Choose Us For Microblading Your Eyebrows?
One of the most fashionable, noble and very complicated technique, provided by 2X certified artist! Our clients safety is our first priority. We use high quality disposable instruments, the best and the safest pigments of USA manufacturers.
Welcome To Our Microblading Salon
Get to know our salon and get inspired with our latest works! We strive to provide the best service possible, always care about our clients. We keep our room clean and follow universal precautions according to OSHA (medical standard).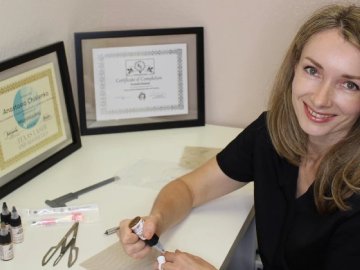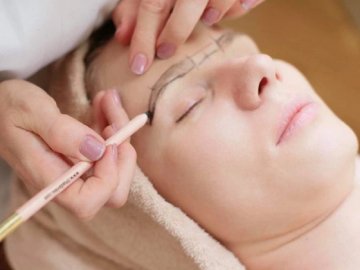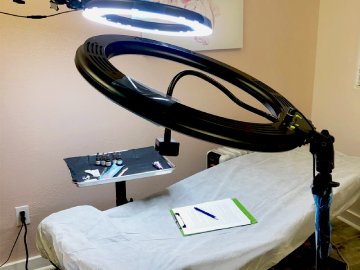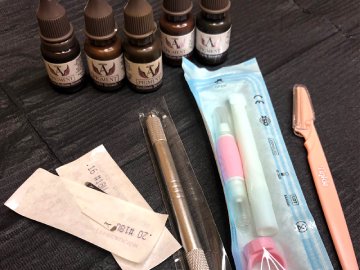 How Eyebrows Microblading Procedure Is Done
Personalizing the shape of your brows. Verifying symmetry and drawing the frames using the concept of Golden Ratio. Numbing. First pass of the procedure. Only a small percentage of the pigment implanted. Using a new nano blade, your technician makes secondary pass
Before And After Microblading Eyebrows
Just a feather touch and your brows can look a bit brighter, naturally fuller and thicker, with higher and more stylish arch and better symmetry. Microblading combined with shading can also camouflage scars and lack of brow hairs.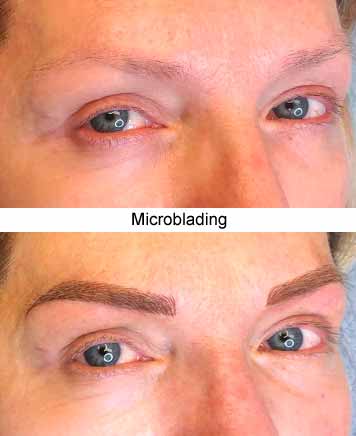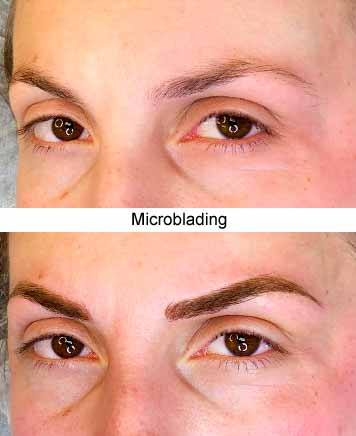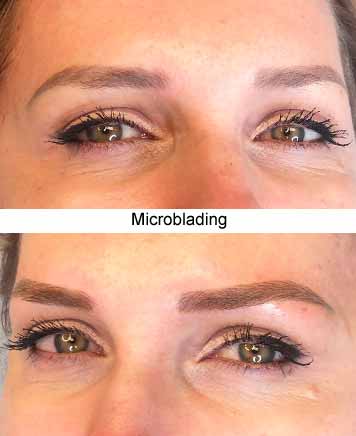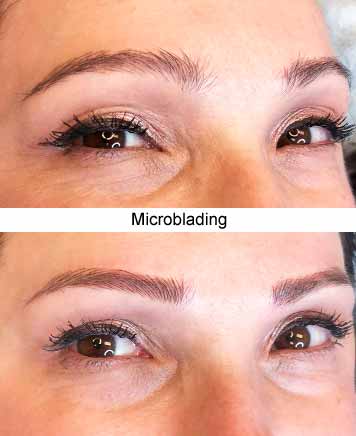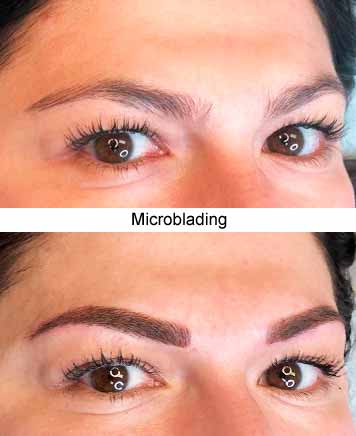 FAQ For Microblading Eyebrows
Get the answers to the most popular questions right away. If you have more questions or want to discuss your particular situation, please, feel free to contact us!
What is eyebrow microblading?
It is a technique for designing eyebrows, thanks to which they can not only remain beautiful for a long time, but also look as natural as possible. Unlike tattooing, microblading does not involve uniform skin coloring. Instead, thin incisions are made on it with a special blade, through which the pigment enters the upper layer of the epidermis. They are very similar to natural hair, which makes the brows look natural.
It is done on both thick dark and light sparse brows. Our master can restore the brows damaged by alopecia with the help of a suitable pigment. At the same time, new brows look natural and multidimensional. After all, our professional uses several shades at once to recreate the natural color of your eyebrows.
If you just want to design your brows and forget about them for a while, microblading is also suitable for you. Every morning you will wake up with perfect eyebrows.
Who should not get microblading?
Absolute contraindications:
Poor blood coagulation;
Diabetes mellitus in the form of insulin dependence;
Presence of acute inflammatory diseases;
Severe forms of somatic diseases;
Keloid scars and their tendency to appear;
Oncology;
Epilepsy;
Mental illnesses;
Syphilis, hepatitis and HIV.
If you have any disease from the list listed above, please note that having the microblading is dangerous and strictly prohibited.
Relative contraindications:
High blood pressure;
Breastfeeding and Pregnancy;
Allergic reactions (you must inform a specialist about this);
Inflammatory exacerbations on the skin in the area of tattooing;
Taking antibiotics;
Fever;
Alcohol intoxication. You can drink alcohol at least a day before the procedure;
It is not recommended to perform procedure during menstruation or a week before and after.
You should avoid:
Working out or any other activity that may cause sweating;
Sun exposure and ultraviolet light 2 weeks before the procedure;
Taking blood-thinning medications, including aspirin and niacin 24 hours prior to the session. Be careful with Ibuprofen, Vitamin E and Fish Oil, they may provoke bleeding;
Waxing,curling or tinting your brows a few days before;
Drinking beverages containing alcohol and caffeine within 48 hours before the session;
Smoking before coming to the procedure;
We become more sensitive during the menstrual cycle, so we may want to avoid this period;
Having your botox done at least a month prior to the initial procedure.
Following instructions below may help you prevent discoloration, infection, and scarring. After the procedure, some minor swelling may occur. It is common to experience itching during the active healing period, but try to avoid scratching, touching or rubbing the treated area. The healing period usually takes from 5 to 10 days, but note that it may vary greatly depending on individual physiology.
Carefully apply Aquaphor every 1-2 hours on the first day after procedure (3-4 times a day on the second day, and mornings and evenings on the following week);
Before your brows healed avoid using a cleanser or any makeup;
Try to avoid picking, rubbing or scratching the treated area as you may expose it to the bacterial infection;
Avoid exposure to the sun for about 3-4 weeks;
Avoid any activities that may provoke excessive sweating including sauna;
Avoid topical creams with Retinol and Vit A for about 4 weeks;
Avoid facials, Botox, any laser esthetic procedures for 4 weeks;
AAvoid sleeping on your face about the first 7 days.
How Brow Tattoo differs from microblading?
Microblading is performed manually;
This is procedure is not as painful for your skin as classic tattooing. The pigment is driven only into the epidermis by 0.2 millimeters, while the tattoo machine will drive the pigment into the deep layers of the skin by about 8 mm. Permanent makeup lasts longer on the brows;
Unlike the tattoo machine, the tool for manual micro-correction does not vibrate and allows your master to draw each hair as accurately as possible, while naturally.
About Artist Of Microblading Eyebrows
Being a former beautician, now I am getting my degree in the medical field. But I found my real love and passion in the art of microblading that let me fully express myself among artistry, hospitality, and medicine.
Firstly, I would like to appreciate taking out your valuable time and visiting the webpage of my beauty room. It is said, "People with passion can change the world for the better" and this formula worked for me. My dream was to find the perfect balance between the beauty industry, artistry, and medicine. I am so excited! I am fortunate enough to be in my favorite sphere and help people with something I do know about! Combining my knowledge, skills, and experience I have achieved this perfect balance.
Get In Touch
Fill out this form to book an appointment or ask a question and we will call you back!