50$ OFF FOR NEW CLIENTS!
Eyebrow Microblading In Austin
Your beautiful brows are just one appointment away with 2Xcertified microblading artist!
BOOK NOW!
Prices For Microblading Services
Are you worried how much it costs? You will love our prices affordable for everyone! Don't miss our promotion for the new clients and get the best deal possible for microblading, PMU and correction procedures.
Consultation
In case you have an anxiety, want to know more about procedure, need more time to decide your brow shape or review medical history, etc., Note, you will have a 15 minutes free consultation when with the initial session.
Microblading + Shading
The combination of Microblading and Powdered brows involves some hair strokes around the edges to create a natural look and then powdered shading is done throughout the brows to give an incredibly elegant look.
Price: $430.00 $500.00
3 hours
Microblading Initial Service
This session includes 15 min free consultation, numbing and and the initial procedure. Please, be aware that you can not receive this service if you are under 18 y.o., you are pregnant or breastfeeding or have some medical issues.
Price: $380.00 $450.00
3 hours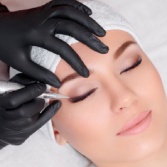 Permanent Eyeliner
This unique cosmetic treatment is always perfect whether you cry or laugh, you stay on the beach or in the sauna. Without any effort, we can look perfect every time with the natural look. The best part about it is we can be gorgeous for a long period of time.
Price: $300.00 $350.00
2 hours 30 minutes
Regular Touch-Up Session
This session is for current clients only. This session can be complete within 4-8 weeks after the initial session. At this session, we can add shading or more color to some fading strokes. It is highly recommended for long-lasting results.
Price: $100.00 $150.00
2 hours (4-8 weeks after initial procedure)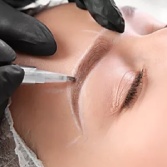 Powder brows/ombre style
It includes consultation, shaping, numbing and the initial session of powder or ombre style brows.This technique allows to create a smooth, makeup looking results. If you have previous tattoo, the consultation recommended previous to the procedure.
Price: $380.00 $480.00
2 hours 30 minutes
Why Choose Us For Microblading Your Eyebrows?
One of the most fashionable, noble and very complicated technique, provided by 2X certified artist! Our clients safety is our first priority. We use high quality disposable instruments, the best and the safest pigments of USA manufacturers.
Welcome To Our Microblading Salon
Get to know our salon and get inspired with our latest works! We long to provide the best service possible, always care about our clients. We keep our room clean and follow universal precautions according to OSHA (medical standart).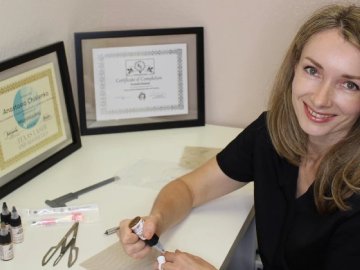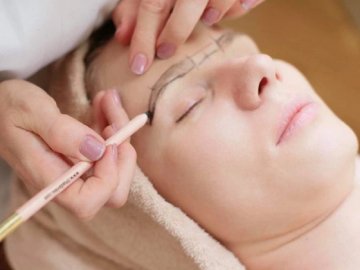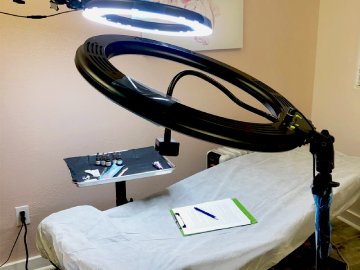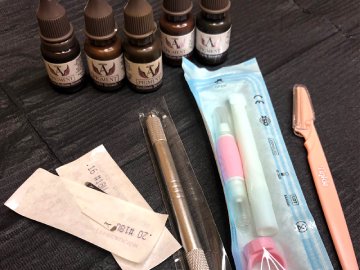 Before And After Microblading Eyebrows
Just a feather touch and your brows could look a bit brighter, naturally fuller and thicker, with higher and more stylish arch and better symmetry. Microblading combined with shading can also camouflage scars and lack of brow hairs.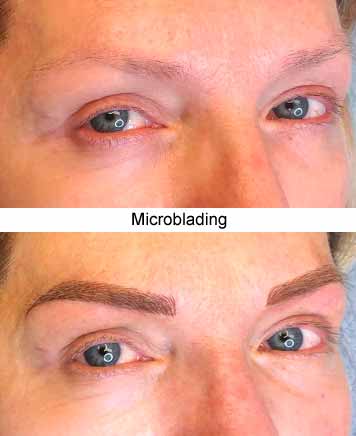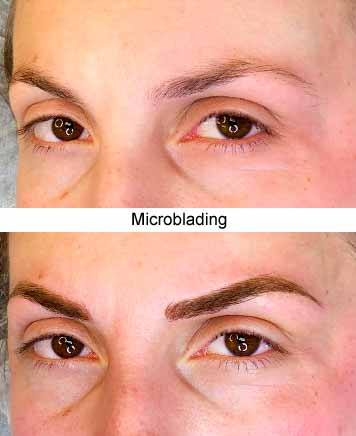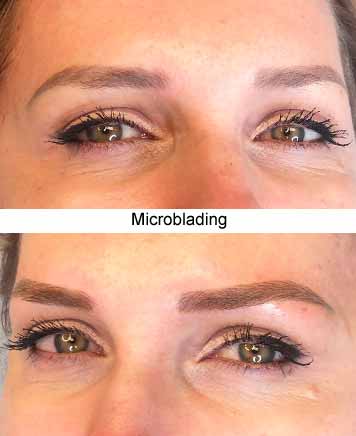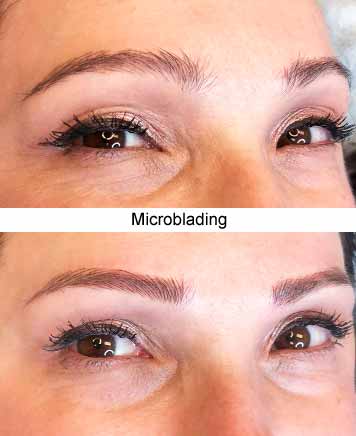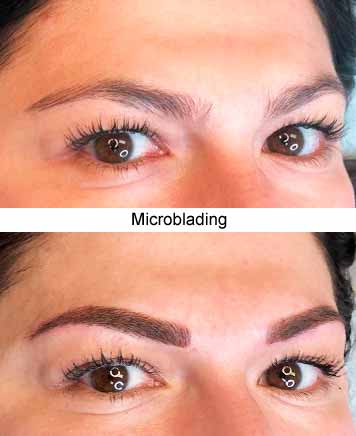 More pictures on Instagram
How Eyebrows Microblading Procedure Is Done
Personalizing the shape of your brows. Verify symmetry and draw the frames using the concept of Golden Ratio. Numbing. First pass of the procedure. Only a small percentage of the pigment implanted. Using a new nano blade, your technician makes secondary pass.
Reviews For Our Microblading Eyebrows
The satisfaction of my clients is my goal and my highest priority and the only way I could reach it is by spreading love and passion with perfection of my work.
FAQ For Microblading Eyebrows
Get the answers to the most popular questions right away. If you have more questions or want to discuss your particular situation, please, do not hesitate to contact!
What is eyebrow microblading?
Microblading is a permanent makeup procedure that creates the eyebrows look extremely natural and realistic. It is done by using a super-fine pen to deposit high-quality Vegan based pigments into the epidermis layer of the brows. This procedure helps to create thin Hair-like strands, drawn in one stroke at a time to customize brows and enhance the existing brows for a natural look.
How to prepare yourself for the microblading?
Please, try to avoid work out and any other activity that may lead to sweating.
Please, avoid prolonged sun exposure.
Avoid any blood-thinning medications, including aspirin and niacin 24 hours prior to the procedure. Be careful with Ibuprofen, Vitamin E and Fish Oil, they may provoke bleeding.
Try to avoid waxing your brows or tinting a few days prior to the initial procedure.
Within 48, eyelash tinting or curling should be avoided.
We become more sensitive during the menstrual cycle, so we may want to avoid this period.
Please, if needed, have your botox done at least a month prior to the initial procedure.
Some restrictions are: individuals under 18 years of age or have immune disorders, keloid scaring history, skin allergies, eczema, and rosacea are restricted from this treatment. Pregnant and breastfeeding women are also advised not to undergo this treatment.
Who can not get microblading?
Under Texas law, individuals under 18 years of age.
Pregnant and breastfeeding women are also advised not to undergo this treatment.
People who have immune disorders, keloid scaring history, skin allergies, eczema, and rosacea are restricted from this treatment.
After we get completely satisfied with the shape, the Brow Artists will numb the area first, with a topical anesthetic for 20 minutes.
Then they start the process. For maximum color retention, a mini soaking session will be held, where excess pigment will be left on our brows.
Who is a candidate for microblading?
It is a popular choice for those with patchy or sparse eyebrows, misshaped or asymmetrical brows and individuals who would like to highlight and enhance their existing brows for a realistic look. We can wake up with full and perfectly SHAPED eyebrows without worrying about filling or getting them to smudge, smear or disappear.
How to do aftercare after microblading?
Following instructions below may help you prevent discoloration, infection, and scarring. After the procedure, some minor swelling may occur. It is common to experience itching during the active healing period, but try to avoid scratching, touching or rubbing the treated area. The healing period usually takes from 5 to 10 days, but note that it may vary greatly depending on individual physiology.
Carefully apply Aquaphor every 1-2 hours on the first day after procedure (3-4 times daily on the 2d day and mornings and evenings on the following week).
Before your brows healed avoid using a cleanser or any makeup.
Try to avoid picking, rubbing or scratching the treated area as we may expose it to the bacterial infection.
Avoid exposure to the sun approximately 3-4 weeks.
Avoid any activities that may provoke excessive sweating, or using sauna.
Avoid topical creams with Retinol and Vit A approximately 4 weeks.
Avoid facials, Botox, any laser esthetic procedures approximately 4 weeks.
Avoid sleeping on your face about the first 7 days.
How Brow Tattoo differs from microblading?
Tattoo technique uses needles to implant pigment deep into derma, the deepest layer of the skin. Once implanted, it can stay there pretty long, sometimes your lifetime. Tattoo ink usually contains a lot of metal oxides, which also contribute to the life-long lasting results. In contrast, new microblading and shading techniques use special plant-based pigments that are implanted in the most superficial skin layer, the epidermis. It gives very sharp and crispy look of individual hair strokes and really soft, light and elegant look for the ombre style brows.
About Artist Of Microblading Eyebrows
Being a former beautician, now I am pursuing my degree in the medical field. But I found my real love and passion in the art of microblading that let me fully express myself among artistry, hospitality, and medicine.
Firstly, I would like to appreciate for taking out your valuable time and visiting the webpage of my beauty room. It is said, "People with passion can change the world for the better" and this formula worked for me. My dream was to find the perfect balance between the beauty industry, artistry, and medicine. I am so excited! I am fortunate enough to be in my favorite department and help people with something I actually know about! Combining my knowledge, skills, and experience I have achieved this perfect balance.
Contact
Ana's Beauty Lab is conveniently located at Salon Republic in North Austin near IFly, and next door to Melting Pot Restaurant, within 15 min drive from Central Austin, Round Rock and Georgetown!
Opening hours:
9:00 AM - 9:00 PM (Sunday closed)
Address:
13343 US Hwy 183 North, Suite 400, Room 160
Get In Touch
Fill out this form to book an appointment or ask a question and we will call you back!